Michael Fox
Boyne Valley Tours was founded by Michael Fox in 2010. Michael is a fully qualified and highly experienced Fáilte Ireland National Tour Guide and licenced Limousine Driver. He has always been interested in history and archaeology although this took a back seat during his career in Information Technology.
When the internet was starting to become a mainstream business tool in the late 1990s, Michael decided to create the websites Newgrange.com and Knowth.com as a self-teaching exercise. Over the next 22 years, he published information on the ancient passage tombs of the Boyne Valley and has now successfully combined this in-depth knowledge and love of history with his private tour business.
Boyne Valley Tours specializes in the Boyne Valley, with Wicklow added as a destination at the request of guests who wanted to explore another area within easy reach of Dublin. Wicklow is such a contrast to the Boyne Valley with mountain scenery, amazing gardens and historical sites such as Glendalough.
Michael and his artist wife, Bernadette, have lived in their current home in the Boyne Valley for 27 years and Bernadette's work can be viewed at Boyne Valley Art. The couple are happy to open their beautiful garden and walking labyrinth to private tour guests.
Derek Smith
Derek Smith has 15 years experience as a tour guide in the Boyne Valley and throughout Wicklow. He is a fully qualified and licenced Limousine Driver.
Growing up in the Boyne valley and exploring ancient sites such as Newgrange and walking in the footsteps of the High kings on the Hill of Tara gave Derek a love for Irish history and mythology. Derek is married with one daughter.
Richard Ball
Richard Ball is a farmer and native of the Boyne Valley, he is married to Bairbre and they have three children.
In 2018 he became a Fáilte Ireland National Tour Guide and is also a fully qualified and licenced Limousine Driver.
Richard consistently receives excellent feedback from visitors with 5 star reviews. He says, 'Ireland is an incredible little country especially when you know where to go, and I get huge satisfaction in bringing guests around, showing it off in all its beauty.'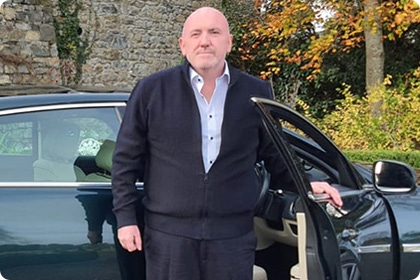 Owen Mullan
Owen lives in Drogheda on the Boyne Estuary.
His passion for Ireland extends to every tour and he ensures that his guests have amazing experiences seeing the best locations and sights throughout the Boyne Valley and Wicklow. Owen is friendly, attentive and very knowledgeable – perfect qualities for a private tour guide!
Owen is a Fáilte Ireland National Tour Guide and a fully qualified and licenced Limousine Driver.
Gerry Ronayne
Graduating in Modern Languages and Literature from Trinity College Dublin in 1980, Gerry began a career as a language teacher working in Italy and France.
A stint as a translator led to a guiding opportunity in Ireland. Gerry qualified as a National Guide in 1990 and worked consistently in the coach tourism sector up to 2019. Thirty years of experience led to a broad knowledge of and love for different areas of Ireland, its history and culture in particular, as well as a curiosity about other nations and how their peoples live. The pandemic saw a necessary switch to the limousine sector in which Gerry has worked with enjoyment ever since.